Brindisa founder, Monika Linton features in BBC Radio Four Food Programme discussing 'How Spain Does Beans'.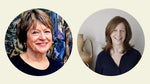 In this podcast, Sheila Dillon travels to Spain to discover how the staple of any Spaniards diet, beans, are grown, prepared and celebrated.
In this programme you'll hear from the people who grow, select, process and trade beans. You'll learn of a culture that respects legumes, where home cooks know how to flavour them, often cook them from dry, and their many varieties are on display in markets and supermarkets.
Sheila accompanies Brindisa founder, Monika Linton, as she visits her processed and dried bean suppliers in the Navarra and Salamanca regions of Spain.
She says legumes are for the Spanish what pasta is for the Italians.
On the lentil fields of the Salamanca plains, we hear how farmers manage relatively small plots of land, and how the beans are used in rotation with other crops in order to both feed people, and nourish the soils.
However not all beans eaten in Spain are grown locally. In Madrid, Mario Castellanos from Legumbres Castellanos, his family business, explains why the country still relies heavily on imports from other nations.
This is a fantastic listen for those who love Spain, food and culture!